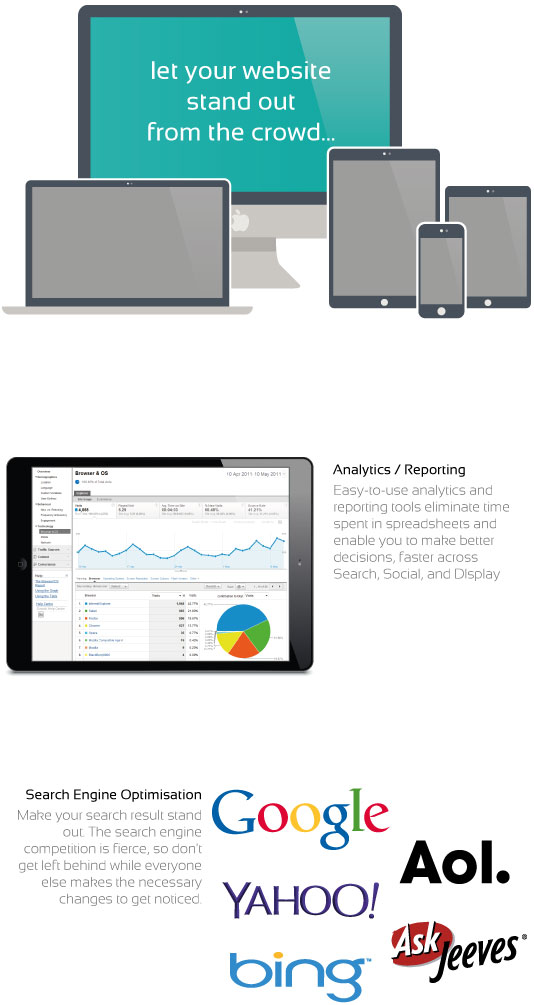 Search Engine Optimisation that works
We take Search Engine Optimisation very seriously. We build sites with SEO in mind, this makes it easier for search engines to find you with specific keywords.
We develop Internet Marketing solutions for businesses to increase traffic, enquires and sales from your site. With 8 years of experience in search engine optimisation & internet marketing, we have helped dozens of our clients succeed online.
Our web developers ensure that your site is constructed in a crawler friendly manner from the start and perform the following tasks:
Research keyword phrases and design the site architecture based upon that research
Make sure each web page is written in a manner that focuses on phrases that real people use in search engines (Google, Yahoo, MSN and Bing)
Decide which phrases belonged on which pages of the site
Optimise each page's Titles and Meta description tags for their target keyword phrases.
Our SEO developers can create Google Adwords campaigns to improve your search engine rankings by maximizing existing monthly budgets in such a way as to increase the number of conversions within Adwords.
With our proven Search Engine Optimisation services, our SEO work is an investment which will generate new business for you.