Our team of web designers are highly experienced in designing websites for therapists and wellbeing professionals. For several years we have designed and maintained websites for nutritionalists, chiropractors and massage therapists alike.
Revive at work have been an established customer of ours since 2008. As a web design company and digital marketing consultancy, we offer a comprehensive business support service. Not only did we build the 'massage in the workplace', but we also optimised the website for mobile, added custom SEO coding and methods. But we also built a multi-location booking system that allows our client to open up multiple workplace-therapy booking systems for each of their clients along the M4 corridor.
Initially, our therapist client approached us for a new small business website advertising their wellbeing services. Initially we designed a bespoke website, which is mobile friendly, further developing it and optimising it for google. The new website has been hugely successful in attracting new customers and as a result the business has adapted, evolved and expanded.
As part of their business service offerings, they are now able to offer an online booking system exhibiting a schedules of appointments for one of their clients such as a call centre, this in turn allows their staff to book a time allocated slot for dozens of available therapies such as Indian head massage (whilst still working at their desk), full body massage (in a pop-up therapy room) and even chair yoga.
This system was further developed and customised so that it could be deployed for multiple call centre clients in the various industries. It is now so popular, our client has increased turnover and as a result, now employs multiple therapists to work at multiple locations. In Swansea, Cardiff and Bristol.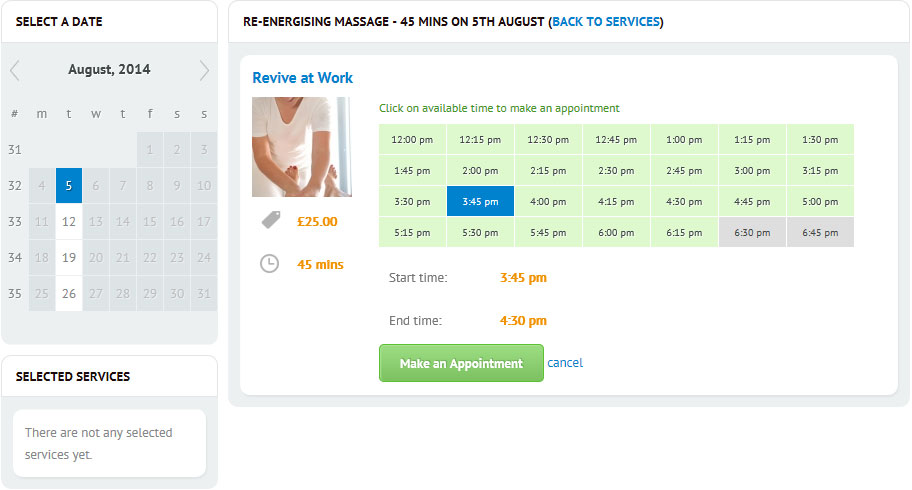 A second online therapist booking system has since been built, dedicated for events where massage therapy is needed (I.e. sporting events, outdoor corporate team building days, in-house corporate well-being days). With the corporate wellbeing events, the employees are able to attend classes via an online booking system. Instead of a booking system that sold slot time slots, a new booking system was built that sold x amount of tickets per class. This online booking system was developed more efficiently and proved to be more cost effective for our client, better streamlined which meant that they could sell tickets faster and made bigger profit margins.
The next phase of our client's wellbeing website was to implement a therapist login facility whereby their staff could login, view bookings, upload documents and download policies and forms which we  implemented via bespoke programming and web development, thus allowing teh our client to optimise their workflow.
For several years the online booking systems and business website proved to be highly successful, that was until COVID-19 struck…! In 2020 all health, therapy and massage businesses ground to a halt as they were deemed to be COVID risk within the workplace. Our client struggled at first, but then turned to digital services in order to retain their income. At first, 'Zoom' based therapy classes were implemented and then after several consultations with our marketing guru, a decision was made for our web developers to build an online shopping cart for our therapist client to sell therapy based digital downloads (I.e. workplace de-stress videos to help call-centre staff who were now working from home).
Since our web design studio launched this new therapy website it is going strength to strength, climbing google, with a regular stream of online enquiries and bookings for wellbeing in the workplace.
So if you are a therapist looking for a web designer to build a wellbeing website then take a look at this fantastic website and give us a call. …we are South Wales best web design company creating the best therapist websites.